Review

Open Access

Open Peer Review
This article has Open Peer Review reports available.
Strategic management of the health workforce in developing countries: what have we learned?
Human Resources for Health
2007
5:4
Received: 19 May 2006
Accepted: 26 February 2007
Published: 26 February 2007
Abstract
The study of the health workforce has gained in prominence in recent years, as the dynamic interconnections between human resource issues and health system effectiveness have come into sharper focus. This paper reviews lessons relating to strategic management challenges emerging from the growing literature in this area. Workforce issues are strategic: they affect overall system performance as well as the feasibility and sustainability of health reforms. Viewing workforce issues strategically forces health authorities to confront the yawning gaps between policy and implementation in many developing countries.
Lessons emerge in four areas. One concerns imbalances in workforce structure, whether from a functional specialization, geographical or facility lens. These imbalances pose a strategic challenge in that authorities must attempt to steer workforce distribution over time using a limited range of policy tools. A second group of lessons concerns the difficulties of central-level steering of the health workforce, often critically weak due to the lack of proper information systems and the complexities of public sector decentralization and service commercialization trends affecting the grassroots.
A third cluster examines worker capacity and motivation, often shaped in developing countries as much by the informal norms and incentives as by formal attempts to support workers or to hold them accountable. Finally, a range of reforms centering on service contracting and improvements to human resource management are emerging. Since these have as a necessary (but not sufficient) condition some flexibility in personnel practices, recent trends towards the sharing of such functions with local authorities are promising.
The paper identifies a number of current lines of productive research, focusing on the relationship between health policy reforms and the local institutional environments in which the workforce, both public and private, is deployed.
Keywords
Health Sector
Strategic Management
Health Workforce
Health Personnel
Health Service Indicator
Review
Having long suffered "woeful neglect," [1] the study of the health workforce is enjoying increased interest in recent years, to judge by the growing range of research being conducted across a variety of sub-fields. This paper plumbs recent work on the health workforce for insights into one of its important, though often implicit, cross-cutting themes: the need for, and current weaknesses in, the strategic management of the health workforce in developing countries. After exploring the nature of 'strategic' management in the health sector, I group ten lessons into four areas: workforce structure, the 'steering' of the workforce, drivers of behavior at the facility level and approaches to improving the performance of human resources. The paper also sketches questions likely to preoccupy researchers in this area in the coming years.
Conclusion
Figure
2
lays out some of the central components of research concerning the strategic management of health workers in developing countries. It highlights core dimensions of workforce issues, corresponding roughly to three types of policy instruments that health policymakers have at their disposal to manage the workforce 'strategically':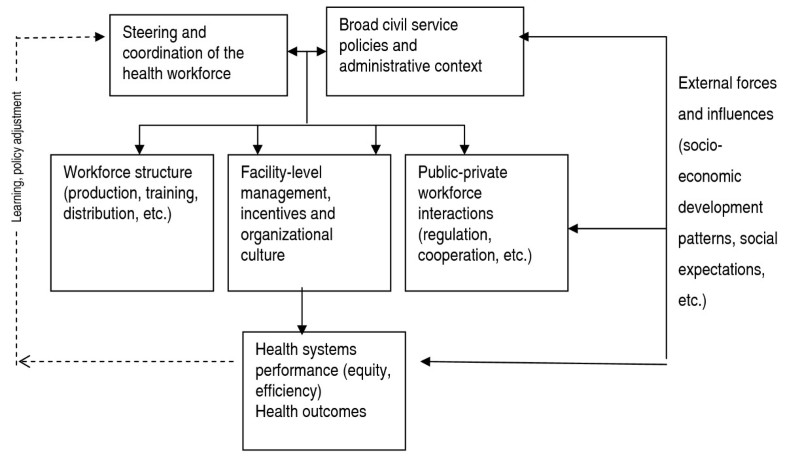 Structural issues such as the recruitment and distribution of workers (policy instruments: direct investment in the production of the workforce and regulations governing their distribution);

Management and motivation issues (policy instruments: organizational reforms, management and supervisory patterns and workforce terms of service); and

Private sector environment (policy instruments: regulation and standard setting).
In addition to emphasizing this menu of policy choices, the framework is meant to highlight the external factors that impact on actual performance. 'External', from a health policymakers' perspective, includes both policies that originate from outside the sector – such as decentralization and public administration reform – and changing social expectations and development levels and patterns, including increased disparities throughout a country. The combined effect of these factors, including on that upon the workforce, leads to overall health sector performance, which eventually leads to particular health impacts (although these are not directly addressed here). Ideally, the system should be able to learn over time how to adjust policies and projects to achieve a more positive impact. Important questions on which some productive areas of current research on strategic workforce management are likely to continue can be situated in the figure. For example:
What kinds of impacts are environmental and policy changes originating outside the sector having on the health workforce?

What do these changes imply for effectiveness of different mechanisms and interventions employed by health authorities to steer and coordinate workforce issues?

How can the health sector take advantage and avoid the risks of public sector decentralization trends? How will the roles of the central-level authorities in workforce management be changing in this process?

How can we assess facility-level determinants of motivation and high performance, including the impact of various types of accountability mechanisms, in order to influence workforce motivation in ways that can be implemented in highly resource-constrained environments?

What effect are private sector forces having on the set of incentives of the public health workforce? Furthermore, how can the private sector workforce itself be more effectively regulated and made to synergize to the maximum extent possible with that of the public sector?
Three additional aspects of the figure deserve mention. First, policymakers control some but not all of the levers necessary to improve health sector performance. In addition to policies, the broader institutional environment affecting local service delivery is important to consider. Second, policies can have both intended and unintended consequences on the workforce. For instance, efforts to increase competitive pressures by boosting managerial and financial autonomy of facilities can have unintended side-effects on workforce performance; these are important to analyze. Finally, the impacts of any health sector reform in large, heterogeneous countries are likely to be mixed, and a key focus of health analysts should be on the attempt to explain the resulting patterns.
Efforts to study the health workforce will likely continue to gain in prominence, and are likely to figure more prominently in the next ten years than they have in recent decades. Within the growing number of case studies and analytical reviews, the issue of what makes for effective strategic management of the health workforce deserves continued attention, particularly in developing country settings.
Authors' Affiliations
(1)
LKY School of Public Policy, National University of Singapore, Singapore
Copyright
© Fritzen; licensee BioMed Central Ltd. 2007
This article is published under license to BioMed Central Ltd. This is an Open Access article distributed under the terms of the Creative Commons Attribution License (http://creativecommons.org/licenses/by/2.0), which permits unrestricted use, distribution, and reproduction in any medium, provided the original work is properly cited.