Review

Open Access

Open Peer Review
This article has Open Peer Review reports available.
Equity-oriented toolkit for health technology assessment and knowledge translation: application to scaling up of training and education for health workers
Human Resources for Health
2009
7:67
Received: 1 March 2008
Accepted: 5 August 2009
Published: 5 August 2009
Abstract
Human resources for health are in crisis worldwide, especially in economically disadvantaged areas and areas with high rates of HIV/AIDS in both health workers and patients. International organizations such as the Global Health Workforce Alliance have been established to address this crisis. A technical working group within the Global Health Workforce Alliance developed recommendations for scaling up education and training of health workers. The paper will illustrate how decision-makers can use evidence and tools from an equity-oriented toolkit to scale up training and education of health workers, following five recommendations of the technical working group. The Equity-Oriented Toolkit, developed by the World Health Organization Collaborating Centre for Knowledge Translation and Health Technology Assessment in Health Equity, has four major steps: (1) burden of illness; (2) community effectiveness; (3) economic evaluation; and (4) knowledge translation/implementation. Relevant tools from each of these steps will be matched with the appropriate recommendation from the technical working group.
Keywords
Knowledge Translation
Health Technology Assessment
Technical Working Group
World Health Organization Collaborate
Equity Gradient
Review
The crisis in human resources for health
Human resources for health (HRH) are, arguably, the most important part of health systems [1]. HRH bring all other elements of health systems together; they link health technologies, infrastructure, knowledge, and financing [2]. Thus, when HRH are deficient, inefficient or ineffective, the entire health system is weakened; Vujicic has identified insufficient HRH capacity as one of the most significant constraints on health systems [3].
Both low-income countries (LICs) and high-income countries worldwide are experiencing a critical shortage of health workers [4], with the most dramatic crises experienced in countries with high mortality rates, reduced life expectancy and high rates of HIV/AIDS, TB, malaria and other infectious diseases [5]. A recent World Health Report estimates a worldwide shortage of almost 4.3 million physicians, nurses, midwives and support workers [6].
Vujicic notes that many global health initiatives are not reaching their targets because there are not enough health workers to deliver services [3]. For example, goals for immunization are not met in areas with insufficient health workers [7]. Further, a model of HRH requirements projected that Tanzania would experience a shortage of 87 100 full-time equivalent health professionals if it were to scale up priority interventions [8]. Supply is not the only problem: distribution, performance, productivity, and skill mix are also issues of concern [3].
In many African countries, HIV/AIDS not only kills health workers and reduces HRH supply, but also reduces morale and infected workers' ability to provide care, thereby reducing productivity and performance [1]. Moreover, the difficulties in working with those who have HIV/AIDS – whether colleagues or patients – may increase the willingness of health workers to move from rural areas to urban settings, from domestic/local groups to international/multilateral organizations and from care delivery to policy-making. Pull factors such as tax-free incomes, higher salaries and better working conditions have a similar impact: they draw health workers from rural to urban settings and so forth, thus exacerbating the shortages in less desirable settings.
A variety of global initiatives have been established to address the HRH crisis, including the Joint Learning Initiative [7] and the Global Health Workforce Alliance (GHWA). The Joint Learning Initiative is "a multiple stakeholder participatory process that seeks to better understand the role of workers in health systems and to identify new strategies to strengthen their performance" [7], while GHWA is a World Health Organization (WHO) group formed in 2006, with members from academia, governments, the private sector, the United Nations and other organizations. The GHWA held its first global forum for HRH in March 2008. Further, WHO has announced an initiative on task shifting [5], a process in which health care tasks are shifted to less specialized workers. This initiative was launched at the first Global Conference on Task Shifting, held in Addis Ababa in January 2008.
The call from these organizations is for a rapid scaling up of HRH capacity [3]. Further, there is a need to leverage knowledge effectively to achieve better health. Thus, within the Global Health Workforce Alliance, a Technical Working Group was tasked with developing principles and guidelines for health worker education and training scale-up; one of the authors (PW) is the Coordinator of the Technical Working Group, Task Force for Scaling Up Education and Training for Health Workers, Global Health Workforce Alliance.
In a report to WHO, the Task Force for Scaling Up Education and Training for Health Workers made recommendations for concerted action. Five of these recommendations were to:
create a national framework for concerted action;

create a (national) curriculum strengthening body;

develop learning methods, materials, and approaches;

develop the institutional action plan;

review and evaluate process, progress and outcomes[9] [personal communication, PW].
The need to develop methods and approaches that will allow national planning authorities to address human resources inequities in the context of burden of disease and availability of effective interventions, treatment and management is crucial. Yet often the capacity to carry out such planning and the appropriateness of tools to assess such needs are lacking. Moreover, in order for an institutional action plan to be developed, decision-makers need to be assured that the plan is appropriate and needs-based. The institutional action plan also must adequately address inequities and include effective processes of evaluation to monitor progress and outcomes; outcomes should incorporate the distribution of both HRH and burden-of-illness inequities. A toolkit offering approaches and methods to address the five recommendations from the Working Group within the context of equity is the Equity-Oriented Toolkit.
Addressing the Working Group's recommendations: the Equity-Oriented Toolkit
The World Health Organization Collaborating Centre for Knowledge Translation and Health Technology Assessment in Health Equity (available from: http://www.cgh.uottawa.ca/eng/index.html; it is formerly the WHO Collaborating Centre for Health Technology Assessment) at the University of Ottawa developed a Needs-Based Toolkit for Health Technology Assessment (HTA) in collaboration with international colleagues. This toolkit was developed in response to the major recommendation of a 1993 international conference in Ottawa, "Needs-Based Technology Assessment: Exploring Global Interfaces". This meeting identified the need for the international community to develop means for developing countries to acquire the expertise to implement a needs-based approach in HTA [10].
The toolkit project was developed to assist health professionals, policy-makers and health system planners in the efficient, fair and effective allocation of health care resources, including human resources. The Technology Assessment Iterative Loop (TAIL) provided the overall framework for achieving the linkages between technology assessment and health status in a systematic manner [11]. It is needs-based according to clinical and population health needs, and therefore not "wants-based" or driven by the vested interests of health professions, industry or government. The methodology is comprehensive and consists of seven factors for assembling the information on which clinical and health policy decisions about technologies can be based. It has been developed to provide a structure to coordinate the work of a broad set of disciplines in assessing the safety, efficacy, effectiveness, costs and optimal use of technology in both populations and individual patients. The steps represent a logical progression from quantifying the burden of illness, to identifying likely causes, through to validating interventions and evaluating their efficiency, to determine whether the burden has been reduced [11].
Steps of the Needs-Based Toolkit for HTA are applicable to both the individual and to populations. The existing toolkit focused on averages, but this ignored distributional issues and equity gradients such as the impact of interventions and policies on the rich-poor gap. Averages thus ignore health inequities; that is, "differences in health which are not only unnecessary and avoidable but, in addition, are considered unfair and unjust" [12]. Averages disguise the fact that health is unevenly distributed according to socioeconomic position; health and life expectancy are significantly higher for the wealthy and decrease significantly for the poor. Furthermore, both policy and clinical interventions have been shown to be less effective for the poor and disadvantaged due to issues such as access, screening, provider compliance and consumer adherence [13].
The Needs-Based Toolkit for HTA was adapted to ensure a focus on distribution issues so that equity gradients will be detected and included in any indicators. An "equity lens" was added to focus on socioeconomic differences in health, to become what is now known as the Equity-Oriented Toolkit for HTA (EOT). The EOT is based on clinical and population health status and takes into account issues of gender equity, social justice and community participation.
The expansion into the EOT used the equity-effectiveness loop framework that assesses the consequences of reductions in efficacy in disadvantaged populations [13]. Moreover, the new EOT considered the extent to which actual tools can be used to assess the impact of health technologies on the rich-poor gap. Each tool was assessed by means of criteria that highlight the multidimensionality of the distribution of health among population subgroups. The additional innovation of this expanded toolkit is the inclusion of new advances in knowledge translation (i.e. the development and evaluation of how these tools are being used and how to make these tools transferable) to different audiences.
The EOT incorporates equity-oriented components with the following four major steps: burden of illness, community effectiveness, economic evaluation and knowledge translation and implementation (Figure
1
). Each of these steps will be described, with an illustration of how the step applies to scaling up training and education.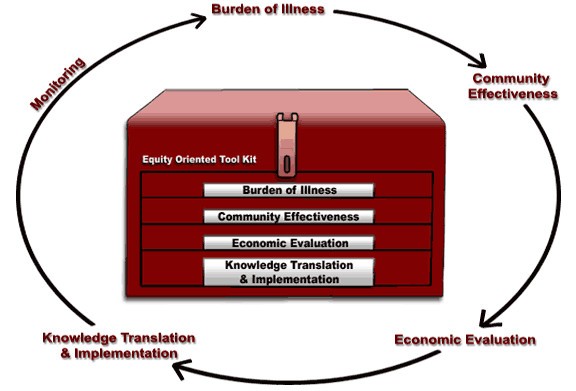 Application of the EOT
In the context of applying the EOT to HRH, the EOT insists on assessing distribution of health workers across geographical factors (e.g. rural versus urban) and sociodemographic factors (e.g. the poorest people may have less access to health workers than the least poor) associated with inequities. As these descriptions have shown, the steps of the EOT can be used to help decision-makers as they scale up HRH training and education. Tools from each step can be matched with the recommendations from the GHWA Technical Working Group [PW]; examples of appropriate tools and their applications will be described.
Conclusion
This paper has shown that there are serious shortages and unbalanced distributions of health workers worldwide. One approach to improving the HRH situation is to address health worker training and education. The recommendations from the GHWA Technical Working Group can be used as a framework for strategies to scale up training and education. However, when policy-makers are developing these strategies, their decisions must be more than evidence-based: there is a need for evidence-informed decisions that are context-sensitive and work in real, everyday situations [32]. As illustrated in this paper, the Equity-Oriented Toolkit offers tools that can be used to assess and monitor the recommendations from GHWA, from assessing the creation of a national planning authority to evaluating the outcomes of a new education programme.
Declarations
Acknowledgements
We would like to thank and acknowledge those who contributed to the development of the original Needs-Based Toolkit for Health Technology Assessment and the later Equity-Oriented Toolkit. We would also like to thank the peer reviewers, Leonila Dans and Russell Gruen, for providing comments and the Managing Editor, Janet Clevenstine, for her work on our manuscript.
PT is supported by a Canada Research Chair. VW is supported by a Canada Graduate Scholarship from the Canadian Institutes of Health Research.
Authors' Affiliations
(1)
Institute of Population Health, University of Ottawa, Ottawa, Canada
(2)
Canadian Society for International Health, Ottawa, Canada
(3)
Academy for Innovation in Medical Education, Faculty of Medicine, University of Ottawa, Ottawa, Canada
Copyright
© Ueffing et al; licensee BioMed Central Ltd. 2009
This article is published under license to BioMed Central Ltd. This is an Open Access article distributed under the terms of the Creative Commons Attribution License (http://creativecommons.org/licenses/by/2.0), which permits unrestricted use, distribution, and reproduction in any medium, provided the original work is properly cited.